PROVIDING STUDENTS WITH HANDS-ON HOSPITALITY EXPERIENCES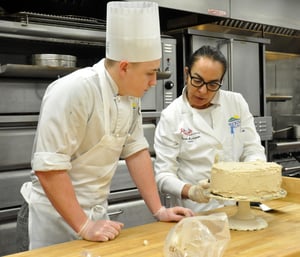 Rhapsody is run by the Hospitality & Culinary Professionals of Tomorrow from Hocking College.
Students gain hands-on experience through industry participation and learn the fundamentals of culinary production as well as the management skills of the modern kitchen.
Hocking College's Culinary Arts program was rated as one of the Top 10 Best Culinary Schools in Ohio by Best Choice Schools in 2017.
To learn more about our Culinary Arts Program, click here.
HOURS OF OPERATION
Monday & Tuesday: CLOSED
Wednesday & Thursday: 5PM — 9PM

Friday & Saturday: 5PM — 9PM
Sunday: 10AM — 2PM
HOCKING COLLEGE HOLIDAY CLOSURES:
November 23 & 24, 2022 CLOSED. Will reopen November 25-27 regular hours.
December 19 - January 10, 2023 CLOSED. Will reopen January 11, 2023 regular hours.